Workshop
Anna & Ryan - Blues Dance Workshop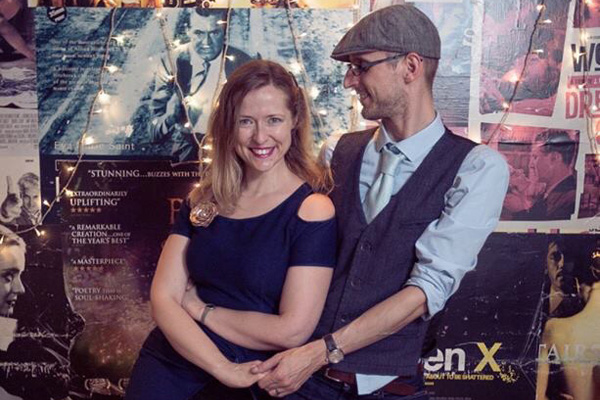 We are bringing another workshop for our fab community in 2017. 

We'll have a one-day workshop with Anna Price & Ryan O'Shaughnessy followed by a social dance night in Adelphi (52 Middle Abbey Street, Dublin 1). 
Workshop Class Descriptions:
Class 1 - Intermediate/Advanced
Drag Blues is a ballrooming dance with characteristic dramatic body shaping done to New Orleans style jazz. In this class we will cover the technique (walking, body shape, contra motion, style etc) that characterises this dance, along with some elements of flash. To get the most out of this class you should be confident dancing ballroom blues and dancing in close embrace on the social floor.
Class 2 - All Levels
Blues dancing as we recognise it today comes from a collection of historical dances, so called blues idiom dances that were specific to a place, time and music style. We will be covering a range of these dances exploring the movement, the historical context in which they developed and the music they were developed to.  With each dance we will also cover cultural assumptions on leading and following, what is specifically being led and followed and where there is opportunities for both partners to add their own styling and voice.  We will cover dances that are appropriate for fast blues (struttin'), and for slow blues (slow drag and the grind) – giving you the tools to dance to songs at a wide range of different speeds.
Workshop Levels:
All Levels: It really is what it means. In this level we try to have the teachers teaching new style or approach to Blues dancing so that both beginners and advanced dancers get something to add to their Blues dancing.

Intermediate/Advanced: Experienced Blues dancers with the following requirements:
A solid connection in close, open and embrace, where you're confident doing the same steps with different partners.
You're able to listen to the music and fit your dancing to its structure.
You have a posture that is comfortable for both you and your partners.
Balance while dancing on your own and with a partner.
If you have some doubts about which level suits you better, talk to Marta or send us an email at info@downtownbluesdublin.com
Schedule:
Saturday 14th October 
11:45 - 12:00 -- Dancers arrive
12:00 - 13:30 -- Class 1 - Intermediate/Advanced (with extra minutes to socialise or practice)
13:30 - 15:00 -- Break
15:00 - 17:00 -- Class 2 - All Levels  (with an extra hour to chill / practice)

Social Dancing from 8pm until 12pm.
Price:
All Levels classes only (2h) + Social:
- Individual: €30
- Discount for couples: €50 together (€25 each)
All Levels + Intermediate/Advanced (3.5h) + Social:
- Individual: €40
- Discount for couples: €70 together (€35 each)
Social: €5 (at the door)
Venue:
Workshop Classes will be held at DanceHouse (Foley Street, Dublin 1).
Social Dancing from 8pm until 12pm in Adelphi (52 Middle Abbey Street, Dublin 1).
Know the teachers
Anna Price & Ryan O'Shaughnessy
Coming from different dance backgrounds, Ryan and Anna started on their blues dance journey together in 2013. Ryan has tap-danced from the age of 12, and Anna's background was in dancing salsa, and Argentine tango, but now blues has taken over both of their lives! 
Ryan and Anna travel extensively to learn, perform and compete - individually, as a couple, and as part of the Down and Outs blues troupe, which they have both been members of since its formation. They have won and placed in competitions in both the US and Europe, and have taught at international festivals such as the Spoonful and European Blues Invasion.
Academically trained, with over 30 years of teaching and mentoring experience between them, they love to encourage people in finding the tools they need to express themselves dancing blues and to geek out over the history, context and music of the dance they both love. Anna is also a blues DJ and loves to expose dancers to as wide a variety of blues music as possible - she loves the breadth of the genre and all the possibilities that this allows in the dance.  
They are particularly interested in Blues Idiom Dances at the moment, and are looking forward to coming to Dublin to teach this material!